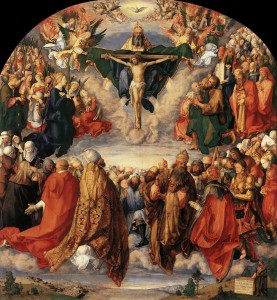 4 Our Confession approves honoring the saints in three ways. The first is thanksgiving. We should thank God because He has shown examples of mercy, because He wishes to save people, and because He has given teachers and other gifts to the Church. These gifts, since they are the greatest, should be amplified. The saints themselves, who have faithfully used these gifts, should be praised just as Christ praises faithful businessmen (Matthew 25:21, 23). 5 The second service is the strengthening of our faith. When we see Peter's denial forgiven, we also are encouraged to believe all the more that grace truly superabounds over sin (Romans 5:20). 6 The third honor is the imitation, first of faith, then of the other virtues. Everyone should imitate the saints according to his calling.
8 Besides, we also grant that the angels pray for us. For there is a passage in Zechariah 1:12, where an angel prays, "O Lord of hosts, how long will You have no mercy on Jerusalem?" 9 We admit that, just as the saints (when alive) pray for the Church universal in general, so in heaven they pray for the Church in general.
Concordia : The Lutheran Confessions, Edited by Paul Timothy McCain, Defense of the Augsburg Confession, Art. XXI
Furthermore, in our liturgy in the Preface and Proper Preface, we conclude the prayer by saying "with angels and archangels, and all the company of heaven, we laud and magnify Your glorious Name, evermore praising You and saying…"  Then the congregation joins in the heavenly song of the Sanctus:  "Holy, Holy, Holy".  In our actions and prayers we confess that our worship is not merely what we see with this small group of people, but that we join in with all the saints.
Who are these saints?  Well yes, Saints Peter and Paul, the other apostles and big names, but also our loved ones that have died in the Faith.  They are as much a saint as even the biggest names in the Bible.  So they too pray for the Church and join with us each Sunday in the Divine Service where heaven and earth meet.
Today is All Saints day.  So we remember those that have passed from our midst and rest safely in Christ awaiting the Resurrection of the Body.  This Sunday at Messiah Lutheran, we will commemorate these as we observe All Saints Day.