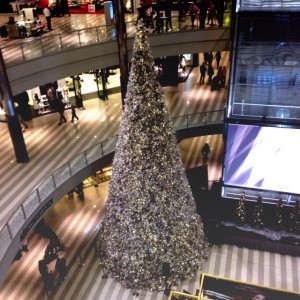 A few weeks ago my family went up to the Mall of America. Well, actually I had a meeting up in the Twin Cities, but we turned the meeting into a little weekend getaway. At the Mall, the enormous Christmas trees were being set up and decorated, and already in early November, the Christmas music was playing. Maybe you have heard "Chestnuts Roasting on an Open Fire" or "Boogie Woogie Santa Claus" as you have done your shopping. Maybe you have the whole house decorated and have been playing Christmas music since you took the Halloween decorations down. That's great. It's a wonderful time of the year.
It occasionally happens that people are surprised that we aren't singing Christmas hymns in Church yet. Here's why. First, it isn't because pastor is some kind of Scrooge that says "bah-humbug" to all the Christmas cheer. I love the lights, the carols, the Christmasy food… and most especially telling the story of the incarnation of our Lord Jesus Christ. But seasons have a time, and for the Church, the Church has its season right now (beginning this Sunday, December 1): Advent.
Advent isn't merely a time to get ready for Christmas. While preparation is one of its themes, we also anticipate the coming of our Lord Jesus on the Last Day. As we prepare and anticipate, we are also reminded why our Lord came into this world in the first place, namely, because we are sinners. He came to save us. So Advent is a season of repentance and reflection. This is quite a contrast from the ever-growing materialism and business of the world.
Finally since we know Who is coming (again, that's Jesus), we also can have joy during this time. So the Church has a treasure trove of hymns for this season: "Savior of the Nations Come," "On Jordan's Bank the Baptist Cries," "Comfort, Comfort, Ye My People," and (my favorite) "O Come, O Come Emmanuel." Come to think of it, in the hustle and bustle of this world, we really need Advent. Christmas will come, and we'll have 12 days to celebrate that (and get all sorts of strange looks for saying "Merry Christmas" on January 3).