What We Believe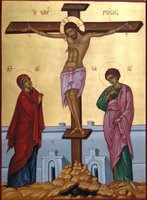 If you would like to read a good summary of the doctrine of the Lutheran Church, the best place to start is with the Small Catechism. Here Luther summarizes the principle teachings of the Christian faith. The catechism was written so that fathers could teach their households the basics of the Christian faith, just as Moses commanded the households of Israel to do (see Deuteronomy 6:4ff).
Here are the basic teachings of the faith which are put forward in the catechism:
God has given us His holy law which demands perfect love and obedience. We have sinned against this law and deserve nothing from our Lord but eternal condemnation.
Despite our sinfulness, God still gives us our bodies, lives, and all that we need. Out of His great love for us, He cares for us even when we are His enemies.
God's love for us has extended even to sending His only begotten Son, Jesus Christ, to take up our sin and suffer and die to forgive all our sins and give us eternal life and salvation.
The Holy Spirit creates faith in us by the Word of the Gospel (God's saving word about His love for us in Jesus) so that when we receive salvation it is entirely the gift of God and we are beggars, receiving what God gives with joy but having no part in our own salvation.
God the Father begets us as His own children, creates faith, and forgives all our sins through the waters of Holy Baptism when the Triune Name (Father, Son, and Holy Spirit) is put upon us with water.
God has sent pastors into His church to forgive the sins of the penitent. This is as sure and certain in heaven as if God Himself were doing it (because He is!).
In the Lord's Supper, Jesus gives us His own body to eat and His own blood to drink, forgiving our sins, strengthening our faith, and giving life and salvation.
Learn more about Lutheran Doctrine at these web sites:


The Book of Concord
Luther's Small Catechism
Luther's Large Catechism
Luther's Great Galatians Commentary
Worship
As Lutherans we have a place in the rich heritage of the Church Catholic (the Church in all times and in all places).  Therefore our worship is liturgical as we gladly receive this faithful heritage which has served our parents, grandparents, and ancestors in the faith with the proclamation of God's Word and the Administration of the Sacraments.
We recognize that gifted musicians and hymn writers have written music that faithfully proclaims the Christian faith throughout all times.  Therefore our music is both timeless in its tradition and contemporary as we through music confess the Christian faith in song.
For the most part, we are musically accompanied by piano.  At times, our singing is done a capella, which is a reminder that the importance of what we sing is not in the production of a musical show, but in the words we are singing.  At the same time, we love the beauty of accompanied music that reflects the joyful reverence that is appropriate as we are gathered in the very presence of God.
Our Synod
Messiah Lutheran Church is a member congregation of the Lutheran Church – Missouri Synod (LCMS).  The Lutheran Church Missouri Synod is an American Lutheran Church body comprised of some 6,000+ congregations who walk together under the authority of Holy Scripture.  We are a "confessional" church.  This means that we believe that the Lutheran Confessions are a true exposition of Holy Scripture and we therefore conform all our preaching, teaching, and practice according to these confessions.
If you live in the "Coulee" Region there are several LCMS congregations:
Messiah Lutheran Church – La Crescent, MN (you are here)
Faith – La Crosse, WI
Shepherd of the Hills – Onalaska, WI
Prince of Peace – West Salem, WI
St. Martin's – Winona, MN
Redeemer – Winona, MN
Radio Programs
Pirate Christian Radio – Pirate Christian Radio hosts several programs (including Issues, Etc.) that can help you learn more about Lutheran doctrine and practice.
Issues, Etc. – Issues, Etc. is a radio program that addresses the issues of the day from a biblical perspective.